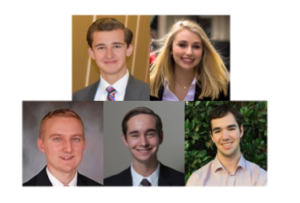 Bios listed below beginning with top left and in clockwise order.
Nick Danby, Harvard University, Class of 2020
Nick is a government and history major and recently chartered an AHS chapter at Harvard. This summer, Nick will intern at AEI's Marilyn Ware Center for Security Studies. He will work closely with Resident Scholars Gary J. Schmitt and Tom Donnelly focusing on long-term strategic issues that will affect America's security at home and its ability to lead abroad. This will include a range of topics from NATO, to American institutional defense issues to strategy in the Asia-Pacific.
Jordan Hayley, Liberty University, Class of 2020
Jordan is an international relations and history major with a concentration in strategic intelligence. She is also in the founder of the Liberty University AHS Chapter. This summer, Jordan will be interning with the American Foreign Policy Council (AFPC), working on two projects; one focusing on countering Islamic extremism and the other focusing on Russian policy.
Peter Kunze, Johns Hopkins University, SAIS, Class of 2019
Peter is a Strategic Studies major in the School for Advanced International Studies where he will serve as the AHS Chapter President this coming fall. This summer, Peter will intern at the U.S. Department of State in the Bureau of European Affairs, in the Office of Southern Europe, working on issues related to Turkey, Greece, and Cyprus.
Dominic Solari, Georgetown University, Class of 2020
Dominic is a government and history major with a minor in economics. He will be serving as his AHS chapter's Deputy Director of Communications in the fall. This summer, Dominic will be interning on the Hill in the office of U.S. Representative Jeff Dunham. While on the Hill, Dominic will assist with constituent services, research projects for the Congressman's staff, and likely attending meetings, hearings, and briefings in order to prepare memos for the Congressman's staff.
Keeghan Sweeney, Washington & Lee University, Class of 2018
Keeghan will be graduating this year with a degree in global politics concentrating in Middle East and U.S. Defense policy. Keeghan has served as his AHS Chapter's president for the past year and will be interning this summer with Overseas Private Investment Corporation (OPIC). OPIC helps U.S. businesses make overseas investments that are in line with American foreign policy and national security interests.
The Alexander Hamilton Society Summer Fellowship provides grants to AHS students pursuing unpaid internships in Washington, D.C. in the fields of foreign policy, national security, and economic statecraft. The fellowship underwrites and encourages students to pursue their professional interests in line with the mission and goals of the Alexander Hamilton Society. Summer Fellows also participate in the AHS Summer Series: educational and professional programming for all AHS students interning in Washington.